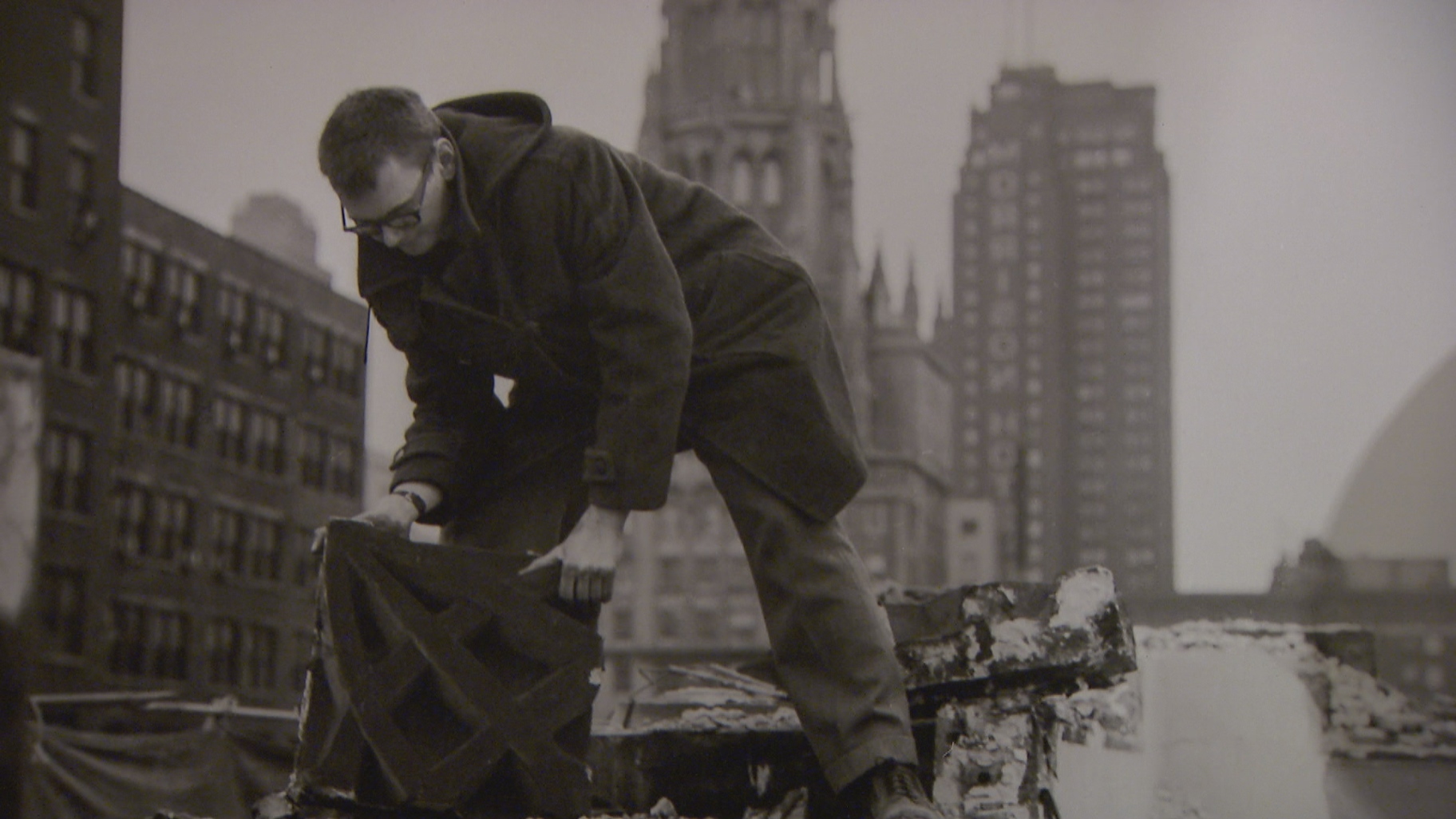 The Legacy of Architect Louis Sullivan and Photographer Richard Nickel Takes Center Stage at the Driehaus Museum | Chicago News
An image by photographer and curator Richard Nickel on display at an exhibition at the Driehaus Museum. (WTTW News)

A tale of two stories takes center stage at the Richard H. Driehaus Museum.
A new exhibit, "Capturing Louis Sullivan: What Richard Nickel Saw," explores the work of architect Louis Sullivan and a photographer on a literal life's mission to capture his impact.
"We push both narratives forward throughout the exhibition," said guest curator David Hanks. "It's like an opera. The music advances, then the drama. So we have two stories that we're trying to tell.
This is the story of an architect and a photographer. Two artists linked by their work, but never in life. Born four years after Sullivan's death, Nickel is committed to documenting Sullivan's architecture, both as a photographer and as a curator. It was a decision he made when he discovered the architect while a student at the IIT Institute of Design.
"Richard Nickel was trying to record the buildings, one by taking pictures of them, then the other by taking ornament from the architecture. Ornament was important to Sullivan's idea of ​​adding beauty and an aesthetic dimension to his homes," Hanks said. "So the exhibit is not just photographs that Nickel took, but also the artifacts that he recovered."
The Chicago buildings created by Sullivan and his partner David Adler were destroyed in the 1960s and 1970s. Preservative, Nickel felt it was his duty to document everything behind the lens.
"He was a documentary photographer, and he told it like it was, the warts and everything," Hanks said. "He showed the building in a documentary way, not to make them look their best but to document to show the buildings."
Nickel was a determined photographer who scaled buildings to find the perfect view.
"He was not afraid of heights. He was a paratrooper in the Korean War and wasn't afraid of heights, and jumped on buildings for great photos," Hanks said. "His goal was to publish a book. He was collecting photographs, had discovered buildings unknown to Adler and Sullivan. He was doing research.
Nickel's research was divided into four themes – two on Sullivan's residential and commercial buildings and the other two on the Chicago Stock Exchange building.
This building is also the place of death of Richard Nickel. He died in 1972 while trying to salvage pieces of the building when it collapsed on top of him.
While his commitment to preservation ended there, his life's mission lives on in more ways than one.
"After Richard Nickel's death, John Vinci created the Richard Nickel Committee, which owned all of his archives, negatives and documentation. A decade later, they donated it to the Chicago Art Institute. It is now in the Ryerson and Burnham Library at the Art Institute," Hanks said. "It's time for a new generation to hear the story, how Nickel gave his life to save buildings. It was a mission that can inspire us today to save the buildings that are threatened today.
"Capturing Louis Sullivan: What Richard Nickel Saw" runs through February 19, 2023 at the Richard H. Driehaus Museum, 40 E. Erie St.
More information about Nickel's life can be found by watching the WTTW Chicago Stories special "The Story of Richard Nickel".
Follow Angel Idowu on Twitter: @angelidowu3
Note: This story will be updated with a video.
---
Angel Idowu is the JCS fund of the artistic correspondent of the DuPage Foundation.
---